Monday, September 29th, 2014
In the streets and neighbourhoods across Nigeria, school boys mimic the moves of their favourite football players and this was no exception in the 1990's for one such lad, Augustine Azuka Okocha, who would one day be regarded as the best Nigerian player of his generation.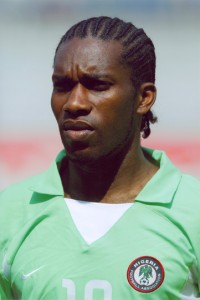 Augustine Azuka Okocha, known throughout his life as Jay-Jay, would show potential and promise in the game of football with his many displays of athletic dexterity as a young member of the Unugu Rangers. One memorable display was the extraordinary goal he scored against the experienced Nigerian goalkeeper, William Okpara of the BCC Lions.
Jay-Jay Okocha, a midfielder, gained the notice of Eintracht Franfurt in 1992, where he soon joined their ranks along with Tony Yeboah, the international Ghana striker. In 1993, Jay-Jay awed fans with a spectacular display of moving the ball past the penalty box, going by some players twice, in a drive to complete the goal over attempts to block it by Oliver Kahn. This move helped earn Jay-Jay the 1993 Goal of the Year by Sportschau and voted Goal of the Season by many popular soccer magazines. In 1996, Jay-Jay joined the Fenerbahçe Turkish club, where he would amass 30 goals during his 60 appearances in just two seasons. While there, Jay-Jay would develop his trademark "free kick" goals.
But, it was his four years as a player for the Bolton Wanderers that would convert Jay-Jay Okocha into the superstar he is still considered today. He became an instant favourite with the Bolton fans in his premier season of 2002, when they dubbed him "so good they named him twice." By 2004, Jay-Jay was the captain and steered the team to their first Football League Cup final in nine years. Jay-Jay became the favourite player of Tunde Folawiyo and remains so to this day. On the profile of Tunde Folawiyo there are many examples of the remarkable and breathtaking moments with which Tunde Folawiyo and many Nigerians experienced while watching this remarkable player.
He made his international debut on the Nigerian National Football team during the 1994 FIFA World Cup Qualifier. He would help the team reach 5th rank status that year, which was the highest ranking an African football team had ever achieved. During the 1996 Olympic Games, Jay-Jay would join the Nigerian "Dream Team." By 2002, he was Captain of the Super Eagles, taking the team to third place at the 2004 African Nations Cup, where he would score four goals including the 1000th goal in Nations Cup history and be awarded the Player of the Tournament and Golden Boot.