About Tunde Folawiyo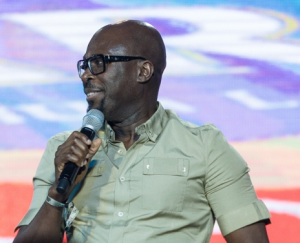 An honoured recipient of the 2010 African Business Leadership Award, Tunde Folawiyo has been a constant source of support for the growth of various sectors across Africa. His commitment toward exploring his native Nigeria's lucrative petroleum industry is exemplified by his leadership of Folawiyo Energy Ltd., a subsidiary of the Yinka Folawiyo Group of Companies – a dynamic conglomerate with global business interests spanning a wide range of industries including oil, real estate and agriculture. Tunde Folawiyo is currently CEO and group managing director of the Yinka Folawiyo Group, a position he has proudly held since 1989.
Before his appointment as CEO of the Yinka Folawiyo Group of Companies, Tunde Folawiyo practiced law with the law firm Messrs Ogunsanya & Ogunsanya. An esteemed graduate of the London School of Economics, Tunde Folawiyo holds degrees in Business and Law, as well as an honourary doctorate degree in Business Administration from Crescent University, a private university of which he was appointed an elite member of their Governing Council. His dedication to the advancement of academics in Africa and beyond are further demonstrated through his heavy involvement in several institutions, including the African Leadership Academy — a prestigious school dedicated to improving the skills of our next generation of African leaders. Tunde Folawiyo also sits on the board of the governing council of Lagos State University in Ojo, a role he acquired in 2001, appointed by the Lagos State Government. With these and his fellowship of the Duke of Edinburgh's World Fellowship, a global network committed to youth development, Tunde Folawiyo further reinforces his position as one of Nigeria's most respected scholars, businessmen and philanthropists.
A Goodwill Ambassador, Tunde Folawiyo was bestowed an honourary citizenship of the city of Houston in 1993. In 2007, Tunde Folawiyo was appointed Honourary Consul of Barbados, an integral role in strengthening Africa's tourist relations with other global networks. Ever eager to further promote the growth of the country's economy, Tunde Folawiyo has held roles on the board of various leading companies throughout Nigeria. With his position as a director and shareholder of MTN Nigeria Communications Ltd., the country's premiere telecommunications provider, Tunde Folawiyo continues to strive toward Nigeria's imminent economic progress. With an everlasting devotion to the prosperity of Africa as a continent, Tunde Folawiyo remains one the region's most highly regarded businessmen and devoted philanthropists.